Lawful Petition Signatures Refused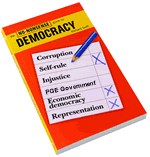 On November 26, volunteers of Clackamas Public Power succeeded in preventing the Clackamas County Board of Commissioners from adopting unprecedented rules requiring PUD chief petitioners to pay the entire cost of a PUD election. We thank Commissioners Martha Schrader and Larry Sowa for their support of democratic principals. Commission Chair Bill Kennemmer took no position in the vote although he later stated to The Oregonian that he supported a fee.
Volunteers attempted earlier that morning to present Clackamas County Elections the signatures for filing and were told petitions would not be accepted until 1 PM [after the board met]. This was per instructions by county counsel. The refusal was videotaped by volunteers.
The proposal for the petitioner pay rule, a cost never imposed in Oregon history under these circumstances, was made in a Board work session one day earlier after County Clerk Sherrie Hall received an e-mail from PGE suggesting the county impose the charges. PGE sent three representatives, including the e-mail sender, to the meeting.
Testimony from volunteers was sterling. Each outlined a different aspect of our argument that the proposed fee was unfair, stifled grassroots democracy, was unconstitutional (we presented numerous case law to that fact), and would deny the voters of Clackamas County the opportunity to make an informed decision on how their electric power will be delivered. Visit here for the replay schedule. Look under the "Government" links.
In a work session held elsewhere following the televised meeting, volunteers gave additional testimony. Clackamas County Counsel Jim Coleman admitted he knew of no legal precedent allowing government to charge petitioners for election costs. It was during this work session that volunteers asked County Clerk Sherrie Hall about PGEs involvement. After some hesitation, Hall confirmed that PGE came up with the idea. Volunteers videotaped the work session.
Two of the three Commissioners decided that in the interests of democratic process, adherence to the U.S. Constitution and Oregon Constitution, and avoidance of legal costs, they would not require PUD petitioners to pay for the election.
Clackamas Public Power filed the petitions two days later, a day after Thanksgiving and the anniversary date of creation of the IBEW (1891).
Clackamas Public Power
www.cheappower.org